Poultry & Game
Free range Poultry and Game are available from our shop.
All our Venison is supplied by Lulworth Estate and our Game birds are all sourced from Dorset.
Our Free Range Chickens and Ducks are sourced from Creedy Carver at Merrifield Farm in Devon. Here is a summary of their venture.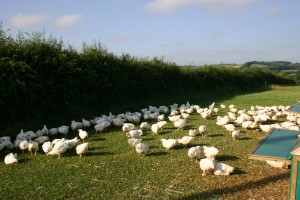 "We have been involved in Barn Reared Chicken production for some twenty years specialising in the production of a more mature and generally larger bird than normally available. Eight years ago we started to produce Free Range Chicken in response to local demand. We have always reared our chicken at low stocking density fed on a low density food to produce a slower growing more mature bird. All our Free Range poultry are reared in small units with plenty of opportunity range. It sounds soft, but we do try to give our poultry a happy life.
My son started the duck enterprise ten years ago when he left school. The standards we use are based on Soil Association criteria although Merrifield Farm is not organic. All of our poultry are fed an additive free diet. The Free Range duckling are stocked at a maximum of 2 sq. feet per duck in the special field barns that we have constructed. They are allowed a range of 4 sq. m. per duckling. A small pond is provided to keep the duckling fit and happy. We find that fat deposition by our Free Range birds is less than normal possibly due to the exercise they take. All are reared at Merrifield Farm or on farms near to the plant so the time between catch and slaughter is no more than half an hour.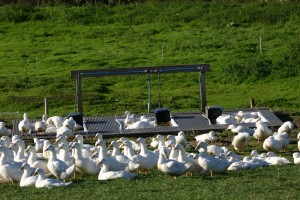 All chicken are reared on contract by farmers near to the processing plant. We have involved local farmers so that the rearing can be done on a cyclical basis. This means that each farm rears a batch of birds, cleans out the sheds disinfects and then re-stocks. In this way we ensure a disease break to keep the birds healthy. By following this technique and with good management, disease is kept to a minimum without the use of drugs or veterinary intervention.
All birds are slaughtered in our lisenced Processing Plant No: UK 8013 EU. We have a licensed cutting room where the portions and pre-packs are prepared. The procedures in the processing plant are probably well out of date in this madly efficient world but we rely on people to do the final finish both in de-feathering and totally in evisceration. In this way we achieve a very high standard of hygiene and consistency of product. We endeavour to present a bird at the highest possible standard but avoid the normal pre-packed image. Our emphasis on a manual approach does involve greater expense but in order that we may survive in the niche market we have to be producing to a higher standard than anyone else.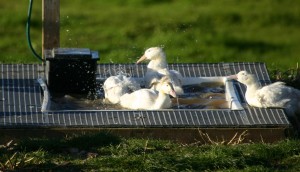 The chicken and duckling certainly do have a happy carefree life and we hope the presentation and quality bear up to our claims.
We are very grateful for the help of local farmers to rear the chicken, and shops throughout the South West who make our birds readily available for all our customers. I think it is a good example of the local community producing a high quality bird and being supported by our very valued local customers."
Peter, Sue and James Coleman
Creedy Carver